Gaining Early Awareness and Readiness for Undergraduate Programs (GEAR UP) key features:
NEVADA GEAR UP NEWS AND EVENTS
Nevada GEAR UP Success Stories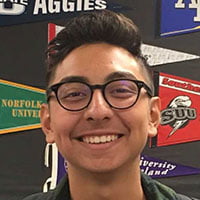 Because of GEAR UP, I have stayed focused and I'm on my way to an Advanced Honors Diploma!
The GEAR UP Program has helped me prepare for college by having several events where I could attend such as a FAFSA Workshop where five representatives from all types of colleges and fields came to PVHS to help us though that exhausting application. GEAR UP has promised and provided equal opportunities for all 11th and 12th grade students by offering many chances to connect with college representatives as well as numerous career opportunities around the community which has contributed to my success. The GEAR UP Program has introduced the idea of college early to me by setting up College and Career Fairs and Field Trips which has gotten me excited and more involved about my future. Because of Ms. Hamrick and Ms. Yuli through the GEAR UP Program I have been offered a life line of support for my future that I would not have been able to find otherwise.
To me, GEAR UP means guidance, it means support, it means a place and a group that is there for me. GEAR UP has helped me grow as person, and it has helped me get a grasp on my future. GEAR UP has given me answers to my college questions, and information on how to reach my college dreams.

2016-2017 Nevada only numbers
JOIN THE BUSINESS NETWORK