A college degree gives you more choices, more opportunities, and more control over your life.
Learn about planning and preparing for college, your career and life.
Follow the word of the week, math problem of the week, science video of the week, and the book of the month to challenge yourself regularly and get in the habit of preparing for college on a weekly (and even daily!) basis.
disregard (verb): to take no notice of.
She disregarded the assignment, unaware of how important it was.
In a classroom of 35 students, 14 are male. What percent of the classroom is male?
SCIENCE VIDEO OF THE WEEK
How do animals experience pain?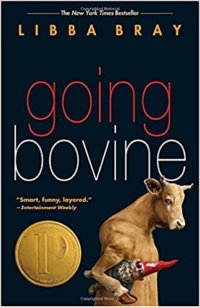 Going Bovine by Libba Bray
All 16-year-old Cameron wants is to get through high school—and life in general—with a minimum of effort. It's not a lot to ask. But that's before he's given some bad news: he's sick and he's going to die. Which totally sucks. Hope arrives in the winged form of Dulcie, a loopy punk angel/possible hallucination with a bad sugar habit. She tells Cam there is a cure—if he's willing to go in search of it. With the help of a death-obsessed, video-gaming dwarf and a yard gnome, Cam sets off on the mother of all road trips through a twisted America into the heart of what matters most.
Summary provided by Goodreads.