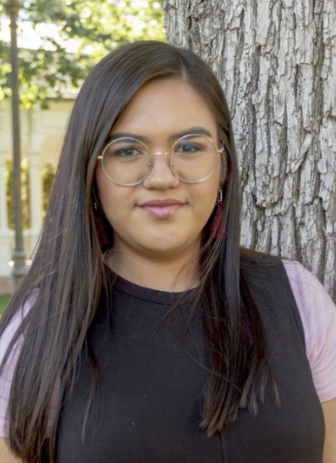 My name is Andrea Saavedra-Nieto, GEAR UP Ambassador Program Coordinator at the University of Nevada Reno. First-generation college graduate, TRiO Scholar and Upward Bound Alum. Graduated with a bachelorette degree in Spanish Language and Literature and International Affairs from the University of Nevada, Reno. From rural Nevada, GO VAQUEROS. I love Latin American music, food and culture. Studied Abroad in Costa Rica and had the opportunity to visit Nicaragua and Panama. PURA VIDA, mae!
As a young professional who recently graduated college I can relate to our GEAR UP students in many ways, but I would like to speak to those students experiencing doubts and negative thoughts when applying and accepting college and scholarship acceptance letters.
Impostor syndrome is real. When I was offered my first job after college, I felt hesitant to accept it. I didn't feel qualified enough and felt like it was pure luck. I felt that I would betray my students if I took the position as a fifth-grade teacher. My mentor explained that I was experiencing was called impostor syndrome. She told me something very valuable that I would like to share with you.
"Employers hire people based on their experience—and for their eagerness to grow. Therefore, it's important to celebrate what you bring to the table now and keep pushing to unlock your full potential."
Being bilingual, having classroom experience and two college degrees made me a qualified candidate for this position. Yet, I did not feel this way. My mentor made it clear that, when she interviews candidates, she hires them not just for their current skills, but for their capacity to improve and learn.
Surrounding myself with a positive work ethic and self-motivated classmates made college a little bit easier. I encourage you all to find self-discipline because it is the strongest form of self-love. Knowing that my hard work and perseverance got me where I am today helps me with my impostor syndrome.
Students believe it because you made it happen. GEAR UP Programs exists because of you. We are here to help you achieve your dreams and goals. Ask questions and work hard. I would like to leave you with a cliché but relevant thought I listened to on my flight back to the USA. Life is 10%, what happens to you and 90% how you react to it. It is not luck. It is SKILL.