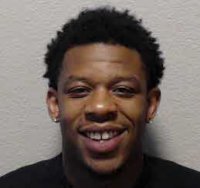 My name is Nicholas Mathews and I am currently in my fourth year as a Nevada State GEAR UP College Ambassador. I am the GEAR UP Ambassador for Nevada State College and have the honor of providing outreach services for approximately 5,500 students within the state of Nevada. I have the opportunity to assist our students, their families and their schools in developing a "college-going culture" that provides students with the skills and resources needed to be successful in earning a college degree. Growing up as a young African American male in Las Vegas has prepared me for taking a special interest in serving our young men of color in the GEAR UP program. A large majority of the students we serve are students of color and I have the opportunity to help these young people combat negative stereotypes while realizing their dreams actually can come true.
I, myself, was a former GEAR UP student in North Las Vegas. I was a member of the UNLV GEAR UP partnership program during my high school years at Mojave High School. I'll never forget just how big a role GEAR UP played in my academic success and I can honestly say I would not be where I am today without this program. The high school I went to was more known for the amount of students that left for juvenile detention centers rather than the amount of students that graduated and went on to college. I was able to graduate from one of the worst schools in the city as a high school valedictorian with the help of my GEAR UP family. GEAR UP provided me with free tutoring for my most challenging subjects, my first college campus visits, and most of all GEAR UP let me know that someone other than my family believed in me. My GEAR UP advisor pushed and encouraged me to do my best at all times, but she also equipped me with the tools and resources I needed to be successful. I was able to attend UNLV free of charge and went on to earn my bachelor's degree in Psychology.
Because I am a former GEAR UP student, I was afforded the opportunity to participate in the GEAR UP Alumni Leadership Academy (GUALA) for former GEAR UP students from all over the nation who succeeded in moving on to a college education. I was 1 of 30 individuals afforded the opportunity to visit Washington D.C., all expenses paid, in order to share my story and advocate for GEAR UP on Capitol Hill. We developed our leadership skills and met with our congressional representatives to share with them how important GEAR UP is on a national level. This experience helped me to see how impactful GEAR UP is all over the United States. I met amazing students from Chicago, Hawaii, Virginia, and Oklahoma just to name a few. I was fortunate enough to participate in this academy two years in a row to advocate for this program that has truly changed my life. The best part about GUALA is that even though each participate is an absolute all-star, we all shared a common background filled with adversity… just like a lot of our current GEAR UP students do today.
Today I am extremely fortunate for this opportunity to help students who may have been just like me. I get to provide students with support, resources and most of all HOPE! My favorite part about this program is that we are able to be there for our students in multiple different ways. We can help our students along their journey to and through college as well as assist them with life's everyday challenges. Not many college access programs can provide the amount of support that GEAR UP does and I am an example of just how much this program can do! If you get nothing else from my blog post other than this, I hope you can see that… GEAR UP WORKS!
To learn more about Nevada State College please visit our website at https://nsc.edu/