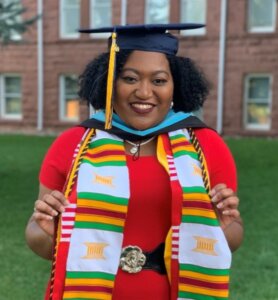 You know that meme that says how excited and ready people were for 2020 back in December 2019, but now they're taking it back? Well, I definitely understand and can relate! I don't know about you, but I definitely was not expecting this year to begin the way it has. Within the first six months of 2020 we have encountered a global pandemic, civil unrest across the country, and reaffirming landmark supreme court cases. Knowing that we will be dealing with the lasting impact of situations from earlier this year throughout the future, I encourage us all to continue educating ourselves and each other, while remaining empathetic and understanding towards others. Even when our impact varies from our intent, reflection and growth can continue to occur, "Mistakes are a fact of life: It is the response to the error that counts." ― Nikki Giovanni. 
And with that said, I'd like to formally introduce myself: my name is Jana and I am the new NSHE GEAR UP College Coordinator! I am super excited to be joining the GEAR UP team and working directly with students and colleagues around Nevada. A little about me: I love to try new foods, learn about others, reading, and binge watch TV shows (if you have any show recommendations, I'd love to hear them!). I am a part of a large blended family, but my familial roots are in a rural area of Louisiana between New Orleans and Baton Rouge. Growing up, I was a military child, living predominantly in Alaska and Nevada. While living in Alaska, I was in a Spanish Immersion program, and when I moved to Nevada I was in the International Baccalaureate program. As a high school student, I joined the Upward Bound Math and Science Program, and remained active with TRiO programs for the next decade, "We have to improve life, not just for those who have the most skills and those who know how to manipulate the system. But also for and with those who often have so much to give but never get the opportunity." ― Dr. Dorothy Irene Height. In 2018, I graduated from the University of Nevada, Reno with a Bachelors of Arts in Spanish and Anthropology with a double minor in Community Health Sciences and Ethnic Studies, and more recently I earned a Masters of Education in Counseling – Student Affairs from Northern Arizona University with the class of 2020. 
As we embark into the continuous unknown, I look forward to meeting and working with all of you amazing people! I have confidence that with such a dedicated team and fantastic students, we will succeed and grow in ways we only imagined, "You may not always have a comfortable life and you will not always be able to solve all of the world's problems at once but don't ever underestimate the importance you can have because history has shown us that courage can be contagious and hope can take on a life of its own." ― Michelle Obama.