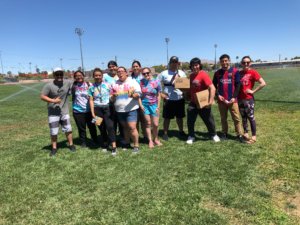 (Pictured: GEAR UP students at UNLV for orientation)
College doesn't start until August, but don't forget to register and attend orientation and other welcome activities this summer no matter which Nevada institution you're going to this fall! Check out our latest info below:  
 College of Southern Nevada
This Summer CSN GEAR UP is working closely with CSN CORE (Coyote Orientation & Registration Events). CORE Events are a student's chance to learn about campus resources, get degree selection help, interact with Coyote Orientation Student Leaders, meet with an Academic Advisor, and connect with other CSN support services, faculty, and staff. Orientation covers information and resources students need to start their education strong at CSN. We have already hosted CSN GEAR UP-only CORE events this summer and now we are working together with the CORE Team to be at each CORE Event with GEAR UP students where we will be hosting a GEAR UP student only workshop focused on first year experience. Students can register for an upcoming CORE here:  https://www.csn.edu/core-orientation-schedule. Before registering, you must complete the math and English placement test or submit ACT or SAT scores that are no more than two (2) years old. For any questions or to let GEAR UP know which orientation you will be attending, please contact interim Ambassador Christian Aguina at cristian.aguina@csn.edu or by phone at 702-651-4271.
Great Basin College
GBC GEAR UP has already started a process of contacting students to make sure they use the summer months to the fullest and are on the path for success in their first year of college.  Part of this includes setting up advising appointments and constructing fun and exciting activities for students throughout the year.  The first of these is going to be an Orientation Workshop series jam-packed with interactive sessions to assist students to start the year off right, such as: useful tips to utilize technology as a college student, money management, and how to get involved on campus.  For any additional information the interim GBC GEAR UP Ambassador, Julie Byrnes, can be reached by phone: (775) 753-2271 and e-mail: julie.byrnes@gbcnv.edu.
Nevada State College
Here at Nevada State College we will be holding several new student orientations. During these orientations we table outside the auditorium to bring awareness of the program. We have begun to send out hard mail to all the GEAR UP cohort members over the summer. In that acceptance letter there is a link that students can use to RSVP for GEAR UP orientation. The college has a mandatory new student orientation and we notify the students that GU will be having a short orientation as well. Orientation dates are as follow: June 5th; June 28th; July 19th and July 27th. Please email me at abraham.gomez@nsc.edu or my student worker at samantha.cortez@nsc.edu to learn more!
Truckee Mountain Community College
Thirty-two GEAR Students are registered to participate in TMCC's Success First program in summer 2019.  The goal is to increase college readiness, persistence, retention and graduation rates of first time, full-time, first-generation students. Success First also uses a Summer Bridge program to give students a jump start to college, helping them gain information about STEM, growing career fields and academic/ motivational support during their first year at TMCC. Summer Bridge dates are Jun. 24–Aug. 1, 2019. In addition, a 'Welcome Day' is tentatively scheduled for Wednesday, August 28.  Students will participate in activities to help connect them with campus resources and services. Contact ychavez@tmcc.edu for further details!  
University of Nevada, Las Vegas
UNLV GEAR UP is excited to kick off the 2019-2020 school year! All GEAR UP students coming to UNLV are invited to participate in our FREE mentoring program (pictured at top of page: last year's mentoring participants). If you sign up for mentoring, you will be paired with a second-year student who will help you navigate the academic, social, and personal demands of your first year of college. If you're interested in hearing more about GEAR UP Mentoring, fill out this brief survey:  https://forms.gle/M5fqCxGnEQZy6MZ58  Keep checking your email for dates and locations for fall events, and don't forget to register for New Student Orientation in MyUNLV!
University of Nevada, Reno
UNR GEAR UP Ambassador Andrea Saavedra-Nieto (andreasaavedra@unr.edu, 775-682-8944) will be present at all remaining First Year Orientation dates (July 8-9, 11-12, 15-16, 18-19, 22, 24, and 31, 2019). You are welcome to join Andrea at the First Generation Lunches, located on the fourth floor, Ballroom C of the Joe Crowley Student Union on each orientation date. UNR's Freshmen Start second session started yesterday, July 15th, 2019. Please contact your GU Ambassador if you need help funding your textbooks. The 365 Learning Office has $50 dollar vouchers available. Also, NevadaFit dates for all admitted students regardless of major are: August 17-22, 2019. Office Hours are available to all students who need help testing out of remedial classes such as English 098 portfolios and Math 095 Accuplacer Tutoring. Finally, GEAR UP New Student Orientation is on Thursday August 22, 2019 , check-in is at 1:30-2:30pm. AB 106. The first day of classes is August 26th, 2019, and we look forward to seeing all admitted students several times this summer before then!
Western Nevada College
WNC GEAR UP will be holding a New Student Orientation/Summer Transition Day on August 2nd at the Carson campus, and August 7th at the Fallon campus for students to get the opportunity to walk through their class schedules, learn how to navigate Canvas, how and where to buy textbooks, pay for classes, and get connected with each other as well as all the resources available on campus. An interactive online orientation will also be held for online students who are unable to attend either campus. WNC GEAR UP Ambassador is also available for one-on-one appointments throughout the summer for assistance to make a smooth transition to college. Contact Tawnie Wentz at tawnie.wentz@wnc.edu or 775-445-3243 with any questions or to schedule an appointment.