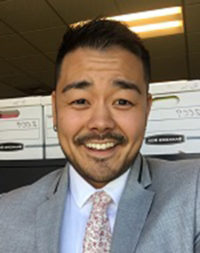 My name is Woody Hoshibata and I am in my first year as a Nevada State GEAR UP College Ambassador. I am the GEAR UP Ambassador for the University of Nevada Las Vegas. I service the whole state of Nevada with 22 participating GEAR UP schools. My main focus for the GEAR UP students is to provide resources in the programs we develop, raise awareness for post-secondary opportunities, and work with dedicated students state wide. I grew up in the state of Hawai'i before relocating to Las Vegas to pursue both my Bachelor's degree in Human Services and my Master's degree in Higher Education from UNLV (graduating Fall 2018). I am thankful for the countless opportunities that UNLV has given me so I am excited that I get to represent an awesome university.
The mission and purpose of GEAR UP is what interested me about this role. I have the opportunity to work with diverse students in the state of Nevada who are eager to pursue higher education. I was also interested in the opportunity to create and develop programs for GEAR UP students. Nevada has a diverse population and being able to understand what programs best fit them was a great learning opportunity for myself.
A great portion of my time is spent helping students with the application process for NSHE institutions in the state of Nevada. I have also developed programs such as GEARing UP FOR YOUR FUTURE in which our students have the opportunity to learn about soft skills to help them succeed in high school. I also help construct the Junior Scholars program in which UNLV GEAR UP was able to provide insight on what it is like to be a "college student". We were able to walk students through the application process as a non-degree seeking student, personally utilize academic resources at UNLV, take a 1 credits Political Science course, access web and online modules and study like a college student. The last program that I implemented was the College Portfolio Series. Understanding that one of the GEAR UP cohorts are in their Junior year, we felt that it would be essential to have our students get organized, learn about scholarship applications, and limit their senior year stress. The series focused on helping student build their resume and cover letters so they may submit them for scholarship committees, understand their high school GPA and test scores for "college fit", and learn about other documentation that will be essential in the application process to all higher education institutions.
One of my goals when entering my Master's degree program was to learn and create effective programs for transitioning high school students, such as bridge programs. I am excited as our first cohort will be entering college in the Fall 2018 semester. I am currently working on a mentoring program that I hope will help our First Year GEAR UP students transition into our university.