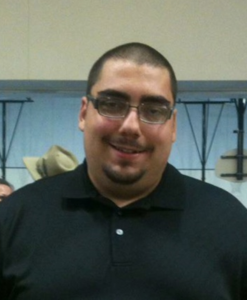 Hello, my name is Jason McGill, the GEAR UP Ambassador of Western Nevada College. I have worked with the GEAR UP grant in different capacities for nearly five years. I began my journey as a as a student mentor at the University of Nevada, Reno. Upon graduating from UNR with my Bachelor's Degree in Psychology, I was offered the opportunity to stay with the GEAR UP program, this time as a Graduate Assistant. After just a year, I stepped away from the program to pursue an opportunity at Edward C Reed High School, where I served as a Graduation Specialist, continuing to assist students through the sometimes tough senior year in high school and on to post secondary careers. During my stay at Reed High School, I graduated from UNR once again…this time with my Master's degree in Equity and Diversity Studies. Almost simultaneously, the GEAR UP Ambassador position at Western Nevada College became available and I couldn't help but throw my name in the hat, ultimately being awarded the position. I couldn't wait to once again work the for GEAR UP program but also return home to another alma mater of mine.
As GEAR UP Ambassador for WNC, I am primarily tasked with serving and providing outreach services to Silver Stage and Yerington High School's, while also providing services to Washoe and other outlying counties when appropriate. What I enjoy most about working with these GEAR UP students in particular is that I come from their very same neighborhood, having graduated from Silver Stage High School myself. I remember when such programs were not offered to students like myself when I was in school. I was lucky enough to have a support system in place to make it to college but I am well aware that those opportunities are scarce, which is why I am committed to giving back to the community.
With the GEAR UP program in place, I have the pleasure of offering various college and career readiness workshops to students and parents throughout the year, as well as assistance completing the FAFSA, applications for various scholarships and grants, and even completing their initial college applications to the school(s) of their choosing. Completing these tasks are daunting indeed, especially dealing with everyday struggles of being a high school student, so being able to assist and see these students grow into the young adults that they have always had the potential of becoming is beyond rewarding. Beginning this fall, I will have the opportunity to also work with GEAR UP students who have chosen to attend WNC as incoming college freshman, where I will continue to assist them in their academic and career preparation needs.